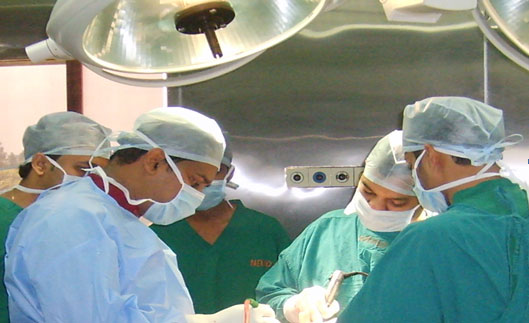 The Department of 
Neurosurgery of Vydehi Institute of Medical Sciences
, recently completed 200 major Neurosurgical procedures in 180 days. 
The Neurosurgery team
 of Dr. H. V. Satish Babu, Prof and Head and Dr. Ravi Khetan, Neurosurgeon along with the Anesthetists, OT, ICU & Ward and Neurosciences staff feel grateful to the Chairman Dr. D. K. Audikeshavulu and Director Mrs. D. A. Kalpaja for providing world class infrastructure to achieve this extra-ordinary feat of providing state-of-the art neurosurgical care at 
Vydehi Institute of Medical Sciences, Whitefield.
 During this period complex neurosurgical procedures like Vestibular Schwannomas, Post Fossa tumors, complex spinal surgeries, spine tumors, brain and spine injuries, pediatric neurosurgery and many other complicated surgeries were carried out by the team.