We cater to the needs of various age groups [varying from 18- 80 years….. The various treatments rendered in our department are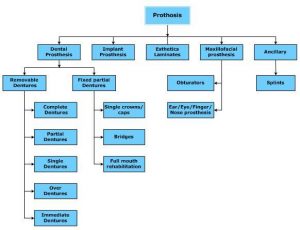 Complete Denture Prosthesis
The treatment for totally missing teeth patients is done with utmost care and with best materials. We provide a variety of material choices depending on the requirement of the case. Replacement of single arch is also done in the form of Single Complete Denture.
Removable partial dentures
This treatment is carried out for patients who have few missing teeth. These are removable dentures that take support from the adjacent teeth. Deals with the replacement of missing teeth using a removable artificial substitute that can readily be removed by the patient. These are usually done by the students under the guidance of the qualified doctors.
Overdentures
These are done in patients where two healthy teeth are present. These teeth are used to improve the fit, comfort and function of the dentures. This particular treatmentis exclusively done by the qualified doctors and is nominally charged.
Immediate dentures
As the name suggests these dentures are given immediately after extraction of the teeth. The prosthesis is fabricated before the extraction and placed immediately afterthe tooth is extracted. This is done for people who cannot be without teeth at all, like, socially active people or for psychological reasons. This involves more tedious work and is also nominally charged, and undertaken by qualified doctors in this field.
Fixed partial dentures (crowns and bridges)
This deals with the replacement of missing teeth using fixed artificial substitutes that remain fixed either to the adjacent teeth or to dental implants. This treatmentis carried out for patients who have one or few missing teeth, root canal treated tooth, badly broken down tooth, discolored tooth. The various treatments rendered are cap/ crown for root canal treated tooth, bridge for one or few teeth missing.
Full mouth rehabilitation
This is done for the cases which require treatment for all the teeth. The treatment is done by qualified and experienced doctors. Materials used for this treatment are metal, metal ceramic and metal-free ceramic. The treatment is done with a very nominal fee and requires 3 to 10 working days depending on the choice of material and thecomplexity of the situation.
Aesthetic rehabilitation
We have facility to render aesthetic treatment like laminates, ceramic crowns, closure of spaces, and correction of discoloration and smile designing. Smile designing involves a scientific and artistic approach to changing the smile of the patient to suit his/ her facial needs.
Maxillofacial prosthesis
This deals with the replacement of missing teeth and associated structures of the upper and/ or lower jaw using a removable/ semi fixed/ fixed artificial substitute that aims at rehabilitating the patient who has lost facial structures (eye, ear, nose, etc) due to trauma / surgery.
Implant prosthesis
Prosthodontists are at the forefront of dental implantology, concentrating on the preservation of a healthy mouth, the creation of tooth replacements and dynamic smiles. Dental implants are the most advanced form of replacing missing teeth that dentistry has to offer today. These are small titanium screws that are inserted into areas ofmissing teeth in order to provide a tooth like substitute